About ReBOOT
In 2004, ReBOOT became an independent company with charitable status and was mainly supported by grant funding.
The grant funding era is now closed to ReBOOT and we strive for sustainability to continue to provide a much needed service to local communities. ReBOOT was recently revamped to bring it into the modern era and provide a sustainable future through a new sales department, which provides our customers with a clean, friendly environment.
ReBOOT (Moray Computer Recycling) has recently set up a trading company, 'ReBOOT Trading (Moray) Ltd', to handle its activities. These include IT equipment recycling, refurbished computer sales and all other services as previously offered by the charity, whilst retaining its charitable objectives. ReBOOT Trading (Moray) Ltd is a wholly owned subsidiary of ReBOOT (Moray Computer Recycling).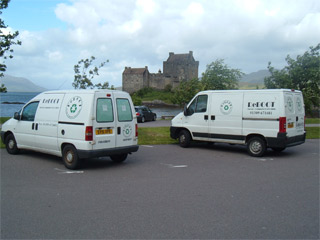 We continue to provide a recycling service to the community and aim to significantly reduce IT waste by refurbishing used equipment, allowing it to be reused where possible. Any computer equipment that cannot be refurbished is disassembled, reduced to base components, then recycled in accordance with current SEPA regulations. ReBOOT is coordinated by a small group of dedicated staff and have a team of skilled volunteers as its workforce who offer their time and expertise to further benefit the community.
The Charity is overseen by a Board of Directors, primarily responsible for the growth and development of the company. A number of these Directors also play an active role in the day-to-day operation of ReBOOT.
Where we are
ReBOOT is located in Forres, Moray, Scotland. We are placed in the Greshop Industrial Estate (just off the A96). If you are having trouble, phone us on 01309 671681 or contact us.
Volunteering
ReBOOT's recycling and refurbishment work is carried out by our volunteer staff. By volunteering, you will be contributing to the local community as well as the global environment.
We believe that our volunteers are our most valuable asset and their dedication is second to none. Our staff are keen to give volunteers hands-on experience working with a range of computer systems.
As well as computer building and fault-finding, we offer our volunteers opportunities to develop office skills, stock management and teamwork.
A number of ReBOOT volunteers have gained, or are currently studying for, Comptia A+ qualifications, an international computer technician certification. Others have also been trained and certified in Portable Appliance Testing (PAT), adding to the skills available to ReBOOT.
Some volunteers are keen to develop their personal IT skills and quickly gain the knowledge and confidence required to carry out upgrades on their home PCs.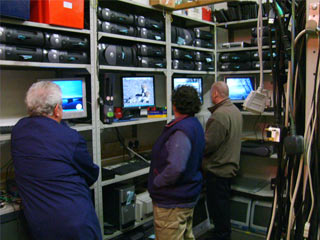 With a wide range of backgrounds and experience levels, the ReBOOT volunteer Computer Technicians, Portable Appliance Testers, IT recyclers, vehicle drivers and clerical volunteers are the all-important key to ReBOOT's success.
We are always happy to hear from new potential volunteers. With absolutely no previous experience required, we will give you training in computer repairs, IT recycling and health & safety.
The essence of volunteering with ReBOOT is having fun, meeting new friends and gaining skills in a safe and friendly atmosphere. It is also about helping to protect the environment and enhancing the services available to the local community.
Recycling
Our main purpose is recycling computer hardware, from laptops and desktops to printers and docking stations.
We offer an environmentally safe and legal route to disposing all of your redundant IT equipement. All hard drives from terminals given to ReBOOT are securely wiped, using industry recognised software. If the hardware does not meet the current specification requirements, it will be carefully dismantled, and all components either re-used or recycled in an environmentally friendly manner.
We can take all types of IT hardware and software. All working systems that meet the required specification will be re-built, cleaned and electrically tested for re-use, offering affordable technology for all.
See here more information on the benefits of recycling IT equipment and our recycling methods.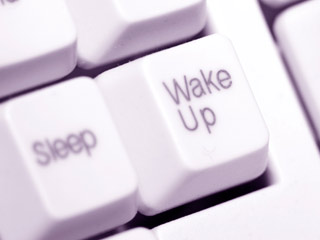 In The News
Forres Gazette
Computer project marks its ten-year milestone
"Moray computer recycling project ReBOOT held a special celebration last week to mark its 10th anniversary. Volunteers and board members from the project, which operates from premises on the Greshop Industrial Estate, gathered together at the Nicholson Building on St Catherine's Road last Tuesday night (September 11) for a special celebration."
Northern Scot
Carers prove they're whizz kids on the computer
"At the click of a mouse, young IT wizards logged on to a new challenge to develop their computing skills and digital confidence. Computer recycling charity ReBOOT has been working closely with Moray Carers to provide hands-on training and support to young people."
Press & Journal
Forres computer recyclers mark best summer yet
"A charity that faced closure last year because of a funding crisis was celebrating last night after enjoying its most successful summer to date. Forres computer recycling organisation ReBOOT underwent a serious shift towards self-sustainabiility in the wake of the closure threat last year."
The Team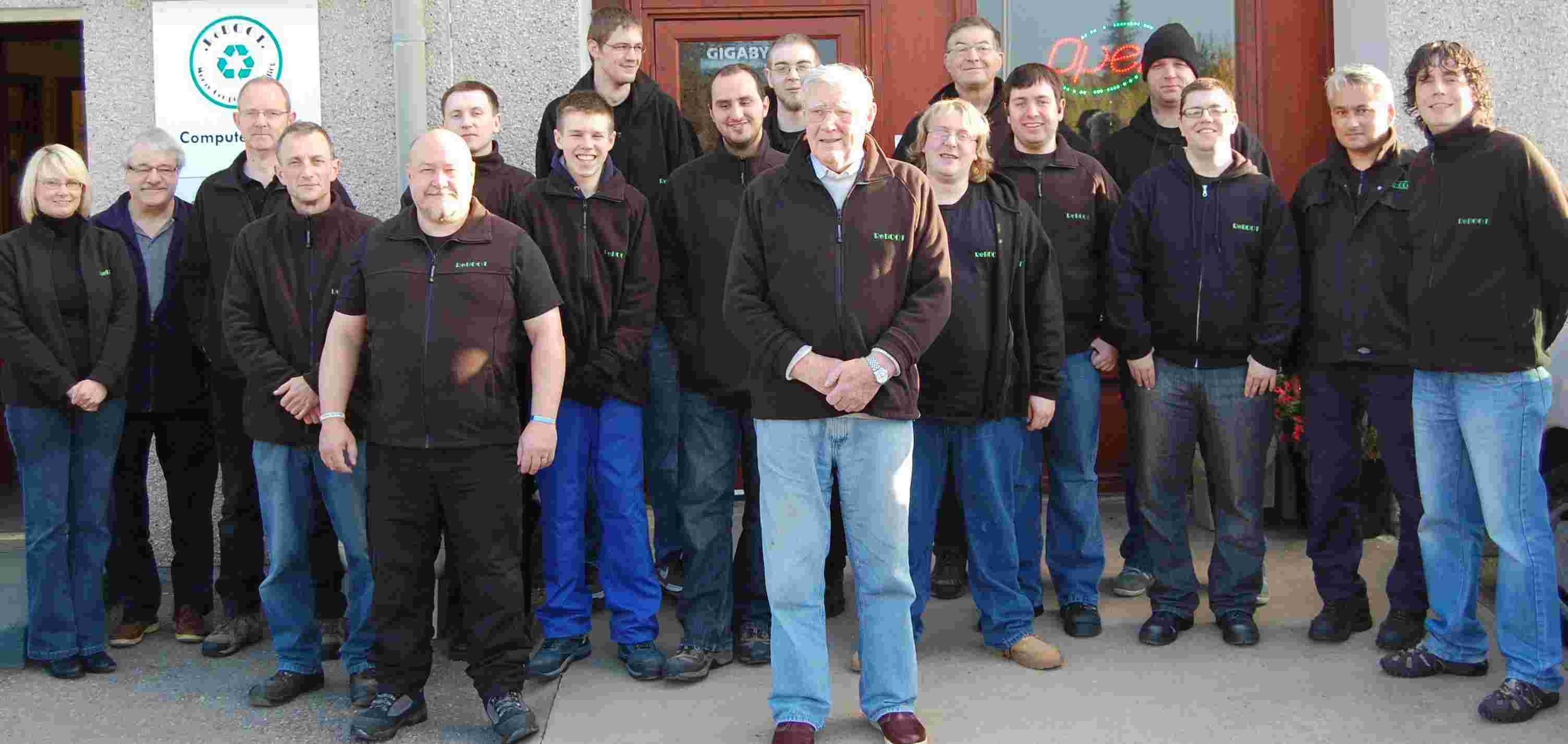 Photo taken in November 2011. Including ReBOOT directors, staff and volunteers!
Manager - Lee McGrath
Administrator - Louise Farish
Senior Technician - Will Young
Workshop Supervisor - Mike Hendry
Statistical Assistant - Archie MacQueen
Technical Officer - Chris Smith